A full length is often too much for many applications. So MCB saws pipes, profiles and round bar to the desired length. We use modern, technically advanced sawing machines to provide this service. MCB put an automated high-bay warehouse for long stainless steel, aluminium and non-ferrous profiles, pipes and round bar into operation at the beginning of 2017. We can cut various grades to size in this warehouse and supply the shortened lengths within 24 hours.
Benefits of MCB's sawing service
✔ Long products sawn to size and delivered to your door within 24 hours*.
✔ You no longer need to hold stock.
✔ Greatly reduced risk of damage due to automated handling and packing.
Easy ordering routine
You can conveniently order all your products online via the webshop. Products that can be sawn to size are identified by this icon

. So you can immediately see which materials qualify for this service.
After selecting a product and the desired dimensions, you will see a "sawn to size" option in the right-hand menu (if the service is available). Now select "sawn to size" to display a field where you can enter an exact dimension.
After confirming the correct dimension, you can indicate how many pieces you wish to order. We determine the appropriate length tolerance for you, based on the length you have selected. If this tolerance does not match your requirements, you can request a suitable quotation in the shopping cart. The processing cost and material price are shown in the shopping cart. Click here to place an immediate order.
If you would like more information, please contact our Sales department on phonenumber +31 (0)40 20 88 582 or e-mail verkoop@mcb.nl.
The sawing machines
Four Behringer sawing machines have been installed in MCB's high-bay warehouse. Each is capable of sawing products up to a diameter of 410 mm. The machines are fully automatic, meaning that combined sawing operations are also possible. In addition to stainless steel, aluminium and non-ferrous products we will also be able to saw carbon steel to size.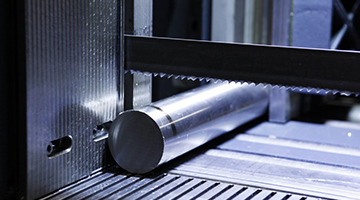 * If the product you have selected is in stock, we will do everything possible to deliver it within 24 hours. That is our performance promise, and we keep our promises. In the unlikely event that delivery is not possible within 24 hours, you can rely on MCB to do everything necessary to get the material to you with minimum delay.